What's an Indigo?
An HP Indigo is sort of a hybrid between a digital color copier and an offset press. It prints like a press, using a liquid ink and an offset process, but because it has 4 color digital imaging heads in place of conventional printing plates, each image can be completely different from the next. The quality of the image is virtually identical to conventional printing.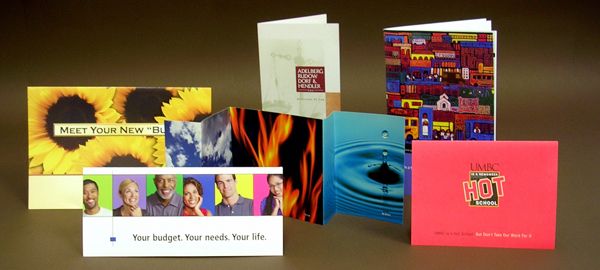 Why should I care?
The Indigo allows us to print only as many copies as you need - from one to several thousand copies. Each copy can have the same image, a variation of that image (variable data, such as a personal name, address, or even a different photo), or it can have a completely different image (such as multiple pages of a book). Because there are no individual plates to make and the ink sets instantly, we can print your job, and then trim, fold or bind it almost immediately. We can also keep your information on file and print additional copies on demand, as you need them.
How is this different from my office copier?
This is a high end digital printing press made by Hewlett Packard. It uses a liquid ink, not the powdered toners found in a xerographic type machine, so you can't "feel" the image. We can print on a wide variety of paper, from plain bond to glossy cover, textured stocks, labels and even some types of plastics. It is the same type of machine that is used by the high-end photo studios to reproduce photographs, memory books, posters, personal greeting cards and photo calendars.
Not convinced?
Come in for a tour and demonstration, or ask one of our CSRs for a printed sample!